Until the 8th Annual Strengths Philippines Conference
Check Out Our Latest Meet-Up

Date & Time: Sept. 30, 5:30 pm
Face to Face
STKLAB Grill Kapitolyo, Pasig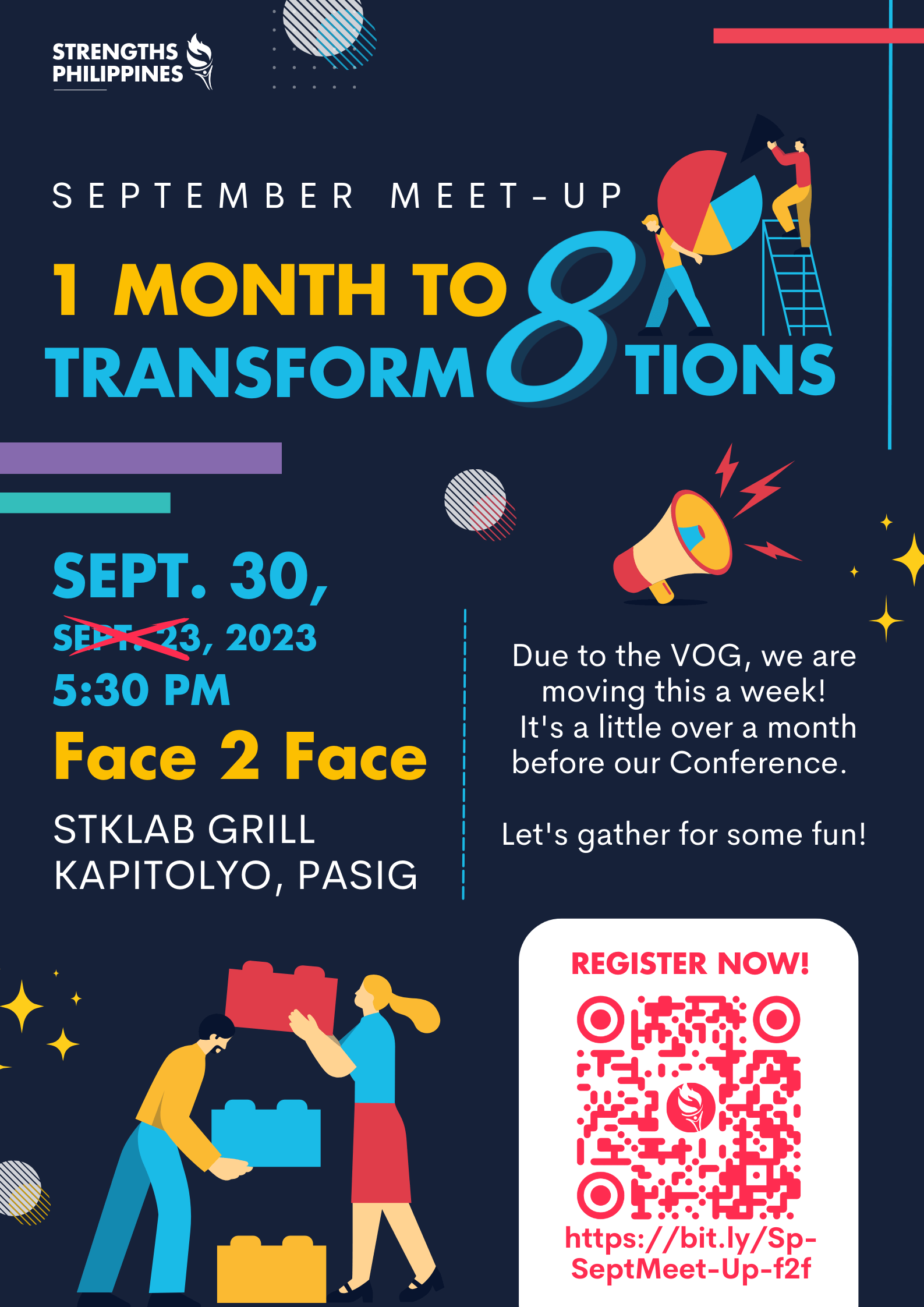 Strengths on Focus

A Strengths Philippines CSR Project.
This 2023 the Strengths Philippines Movement is embarking on a mission to uplifting Filipino lives with the transformative power of living out their lives in Strengths.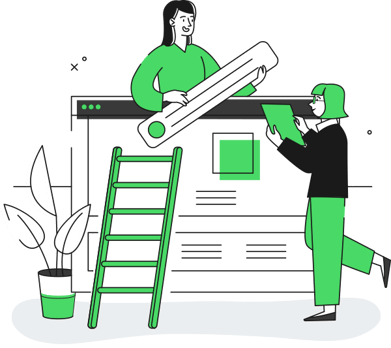 Official Philippine Community.
Strengths Philippines is a non-profit organization and community for Gallup-Trained and Gallup-Certified Strengths Coaches in the Philippines.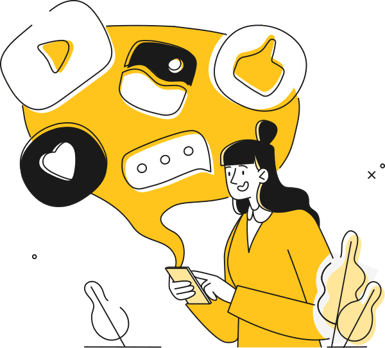 Stay Up to Date on Our Monthly Meet-ups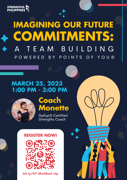 March Meet-Up
Imagining our Future Commitments: a Team Building Powered by Points of You®
Watch Recording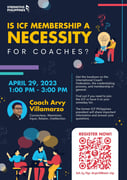 April Meet-Up
Is ICF membership a necessity for coaches?
Get the lowdown on the International Coach Federation, the credentialing process, and membership in general.

Watch Recording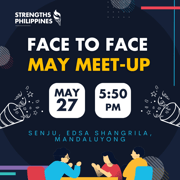 May Face to Face Meet-Up
Registration is closed, see you on the next one!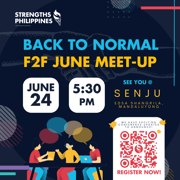 June Face to Face Meet-Up
Registration is closed. We announced exciting conference updates during this meet-up.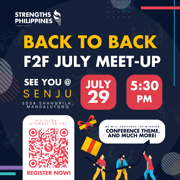 July Face to Face Meet-Up
Registration is closed. We announced the winner of the conference theme contest during this meet-up.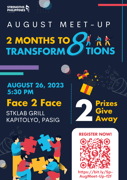 August Face to Face Meet-Up
2 Months 2 Transformations! 2 gifts 2 be given away. Registration is closed.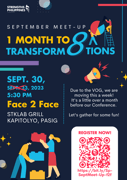 September Face to Face Meet-Up
1 Month 2 Transformations! Join us this 4th Saturday of September. Registration is now open.
Save My Seat
Check Out Our Annual Conferences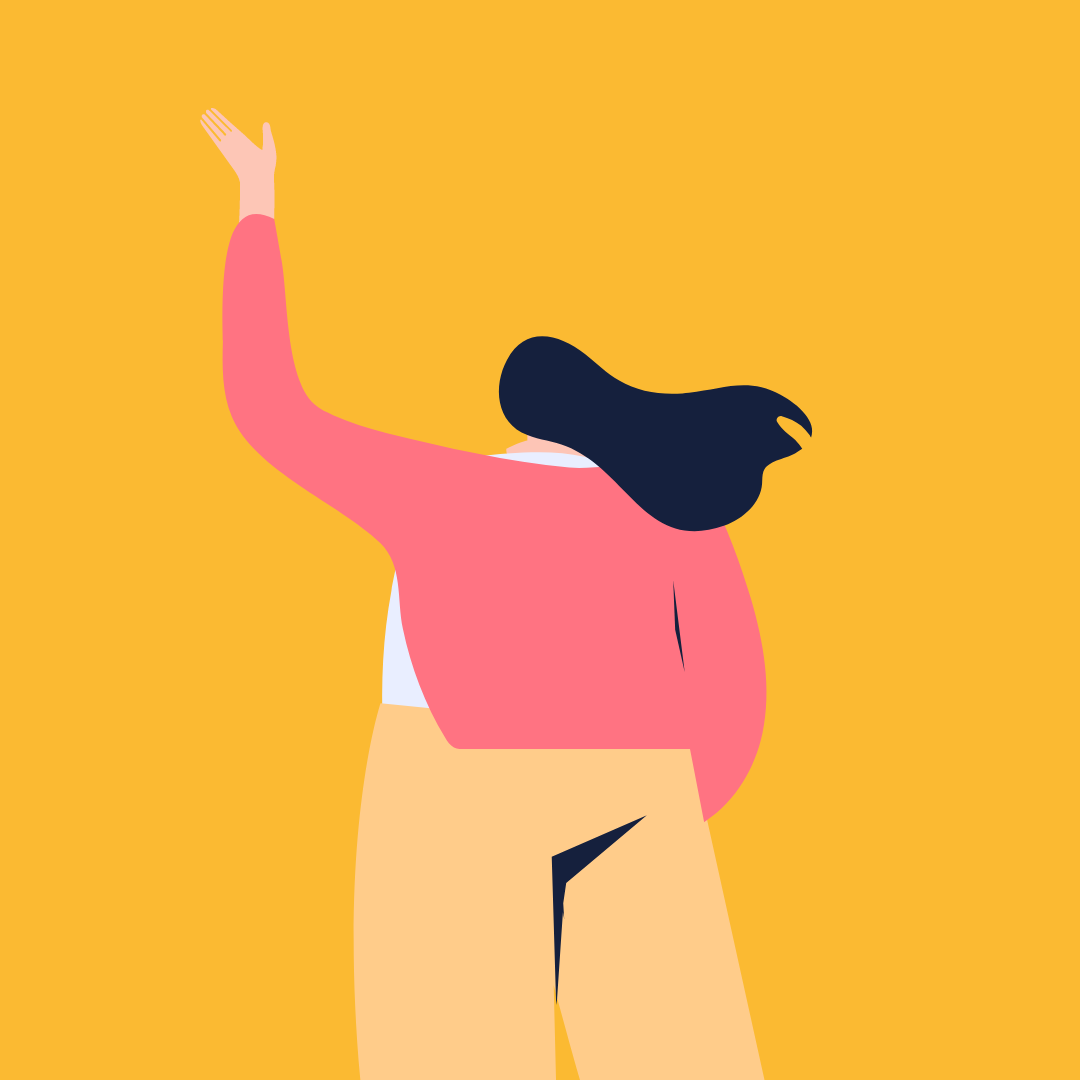 2023
Transform8ions! Elevating Lives with Strengths.
Strengths Philippines Conference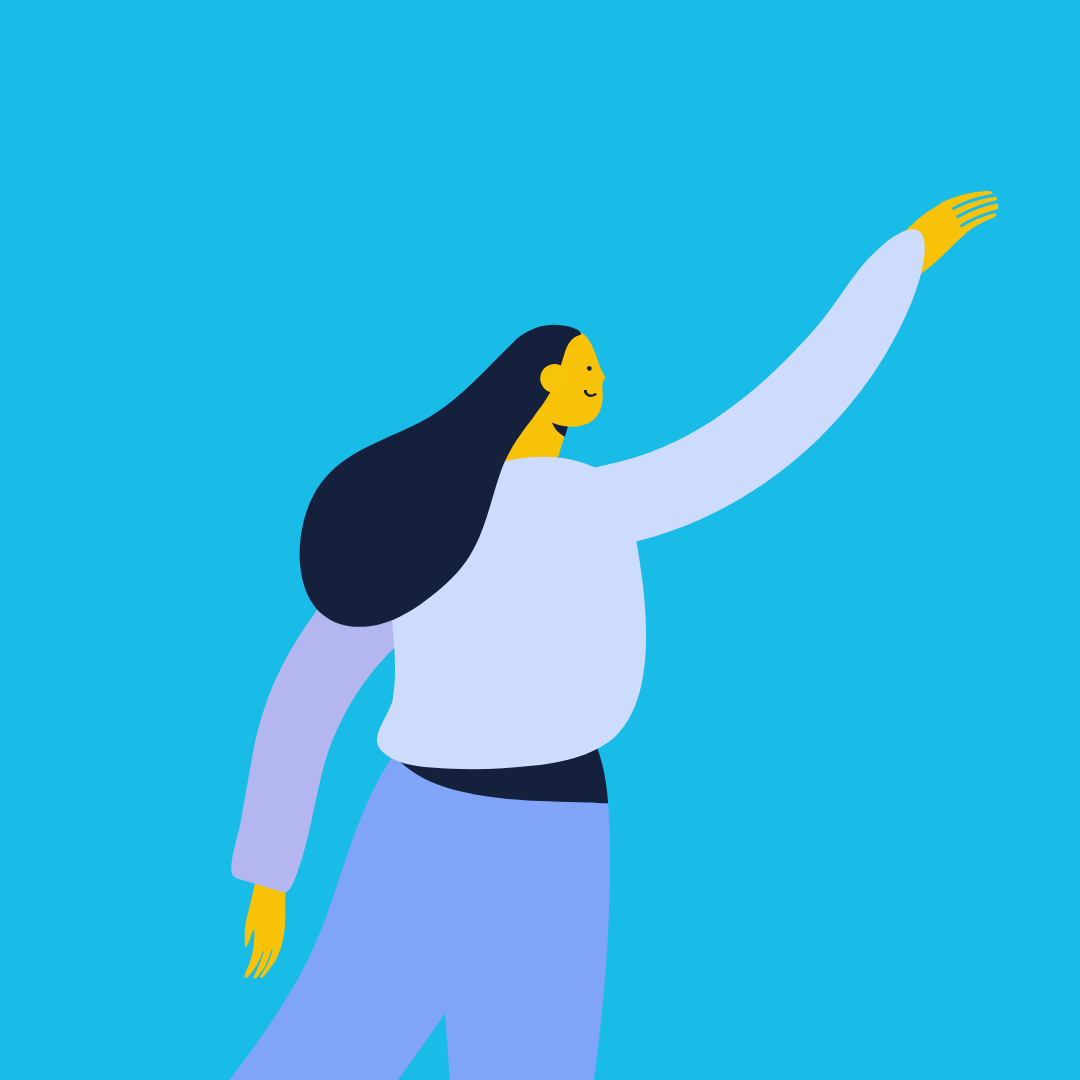 2022
Thrive with Strengths
Strengths Philippines Conference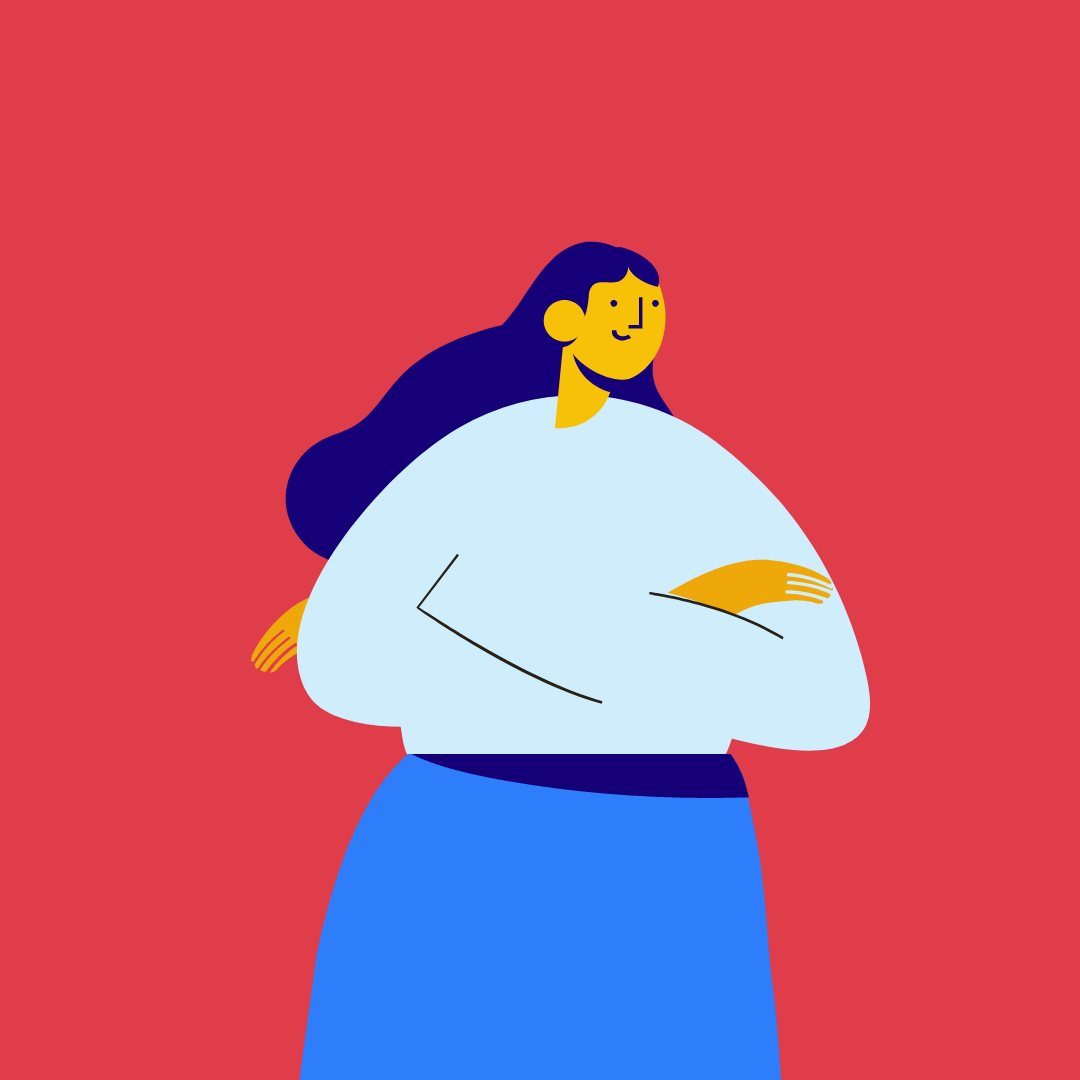 2021
Break Through with Strengths
Strengths Philippines Conference
About Strengths Philippines
We believe that every Filipino should experience the transformative power of living out our Strengths every day.
Strengths Philippines is a non-profit that aims to build a stronger Philippines through Strengths and Strengths-based solutions. We do this through partner outreach initiatives, working with beneficiaries to bring Strengths to those who need them but would otherwise not be able to afford them.
To date, our community is over 250 members strong and is composed of Gallup-Trained and Gallup-Certified coaches who use Strengths in their coaching and consulting of organizational development. With applications in all aspects of life from Career, Relationship, Spirituality, Family and Child Upbringing, and more, the impact that we have on our clients and the Philippines is broad and diverse.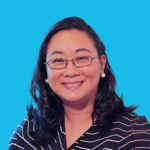 Thrive with strengths. Thrive with us!
Coach Pia Nazareno - Acevedo, Founder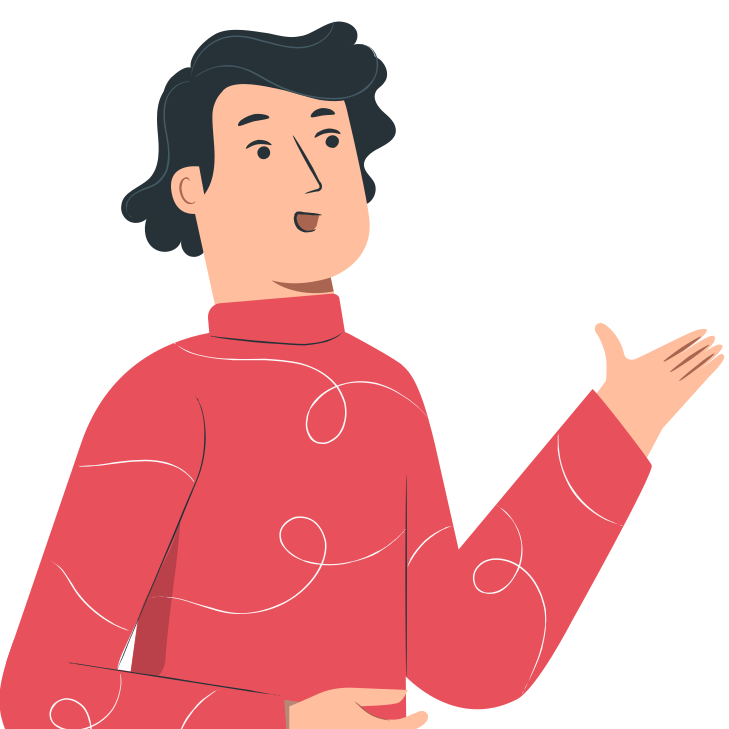 10.0
Strengths Philippines Conferences have just been getting better and better! My Connectedness talent loves how we all believe in transformation - one Strength at a time, while my Input talent is always amazed with practical tips I gather from all the speakers. I'm looking forward to October. I'm sure it will be ah-ma-zing!
Apa Alviar, WinnerStrengths
10.0
What a timely theme for this year's conference --- THRIVE with Strengths! I am over the moon with excitement for the global roster of speakers expected to go on stage this year. #StrengthsPHGoesGlobal indeed. Looking forward to feeding my Achiever and Connectedness talents as we host the biggest gathering of Strengths Coaches and Strengths Champions yet again this October!
Sarah Medilo, GetCre8ive Corporation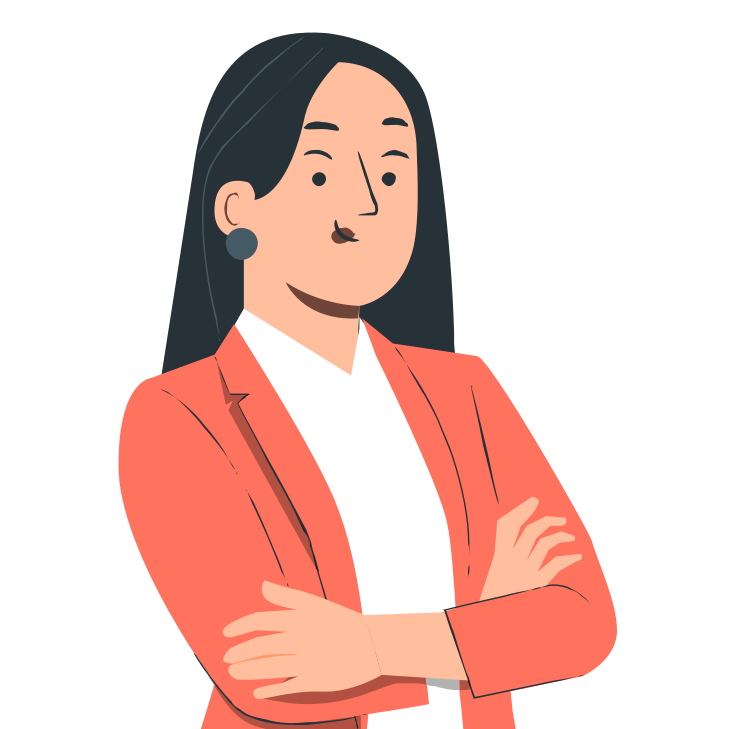 10.0
This conference really speak to my Individualization, Learner and Arranger talents because there's something for everyone and I can customize what my learning experience will be like. I always find myself appreciating my uniqueness and wanting to be a better version of myself during and after the conference. I highly recommend it to anyone wanting a fresh perspective into themselves with a community that will celebrate you for you. All you have to do is show up for yourself!
Bernice Dy, Habi Education Lab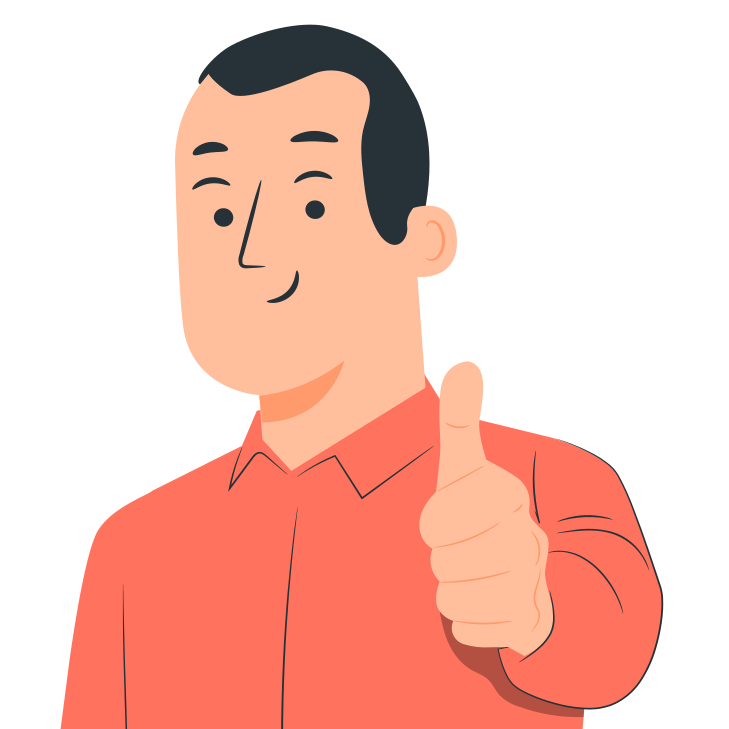 10.0
If there is a ray of light that radiates positivity, and empowerment that encourages you to take a deeper understanding of your talents as a person - that is what the Philippines Strengths Conference is all about! I've been with them since this started - and the unity amongst coaches just radiates to the participants. The varied topics cover all areas of the application of CliftonStrengths from personal to leadership, to corporate. This is one major strengths conference in the country and now, globally!
Val Baguios, Executive Coach | Leadership Development Consultant
Coach Pia
Founder
Upon her personal experience and endeavors with strengths. She strongly believes that every Filipino should experience the transformative power of strengths.
Passionate about bringing Gallup to the Philippines and founded the Strengths Community that blossomed into the vibrant organization of professionals and coaches that it is today.
Leads with Activator, Connectedness, Belief, Woo, and Communication to help individuals and leaders appreciate their uniqueness in order to fully live and fully give.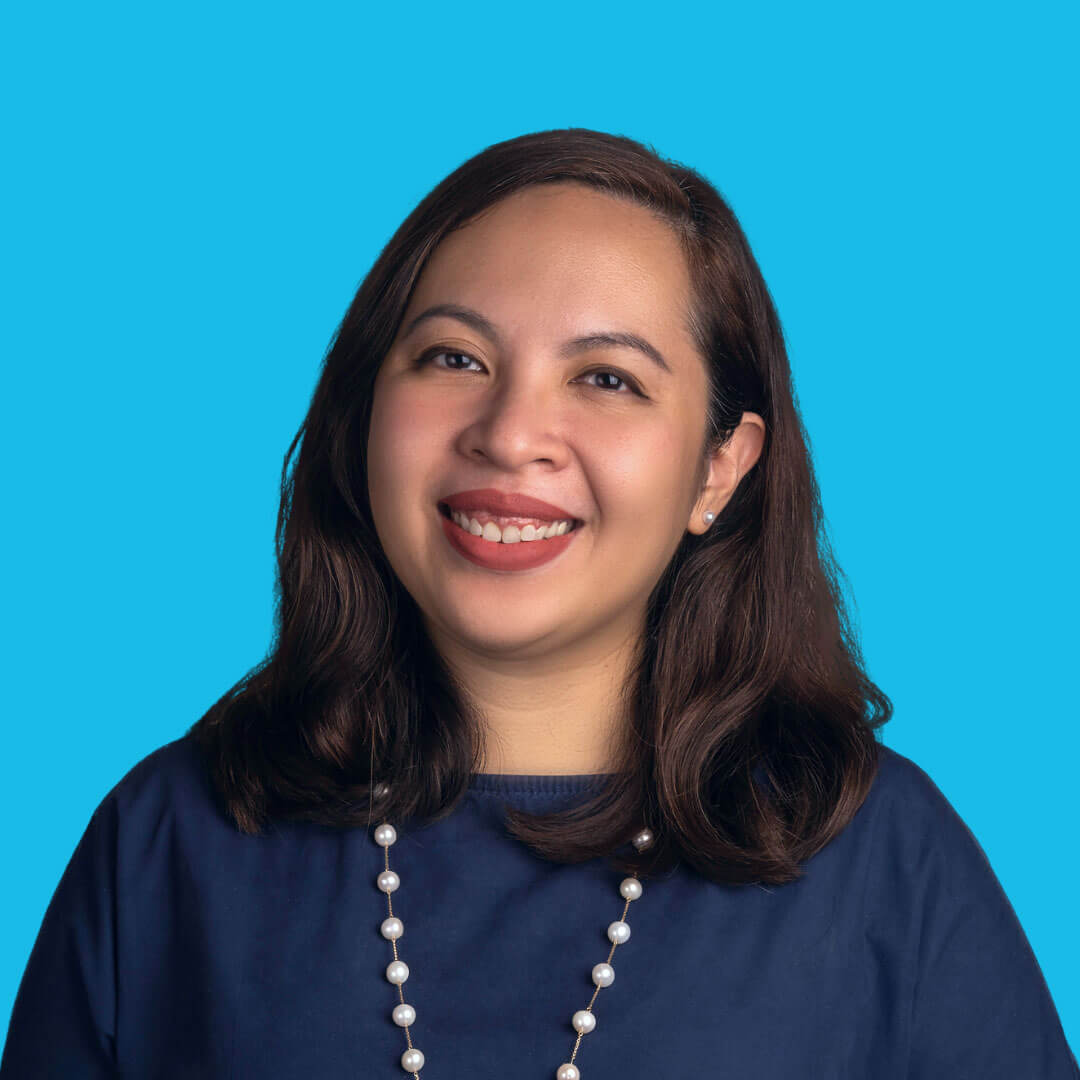 Coach Jjo Vicencio
Special Projects Lead
A Purpose and Values Strengths Coach, passionate about encouraging individuals and teams to bring the impact that only they can use their unique God-given strengths.
Gallup-certified and has a combined 18 years of experience in Human Resources, Teaching, Training, and Communication Arts. She has worked in several kinds of organizations from start-ups to corporate to the academe.
Leads with Empathy, Connectedness, Maximizer, Belief, and Individualization to encourage people to make an impact with their unique God-given strengths.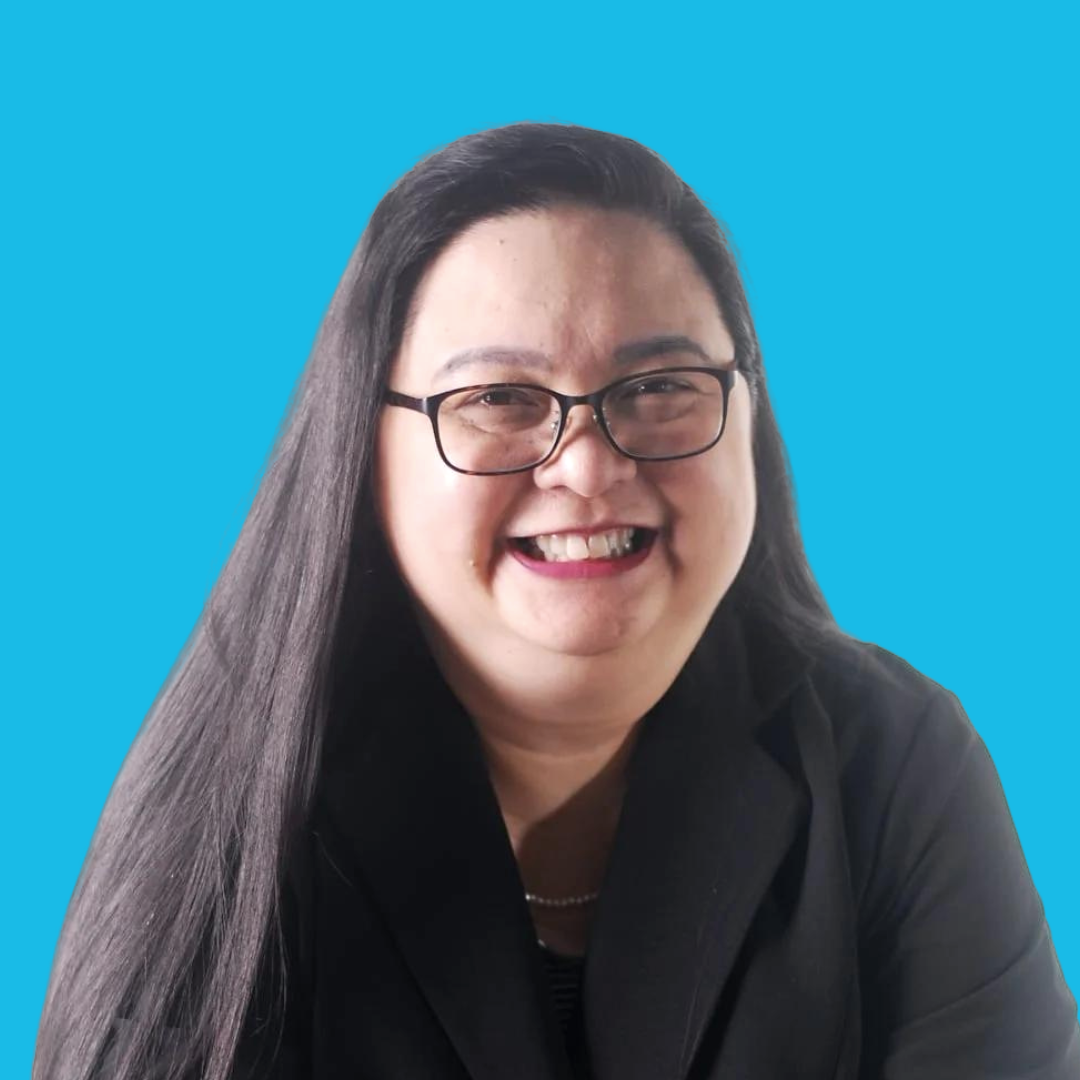 Coach Genette
Conference Lead
On a mission to spark strengths awareness and conversations in education, families, and relationships to help people find what makes them go, glow, and grow.

Within weeks after joining Strengths Philippines, she volunteered to lead the 2021 Conference fueled by her strengths and her desire to serve the community's greater purpose. With a 26-year of experience in Communications, events, and HR, she leads the 2022 Conference again this year. Let's G!

Leads with Connectedness, Belief, Activator, Learner, and Responsibility.